[1838] AD in Kansas City, KS Feedback Form Broken
Editor's Note: The following exhibits were attached to AD's Experience.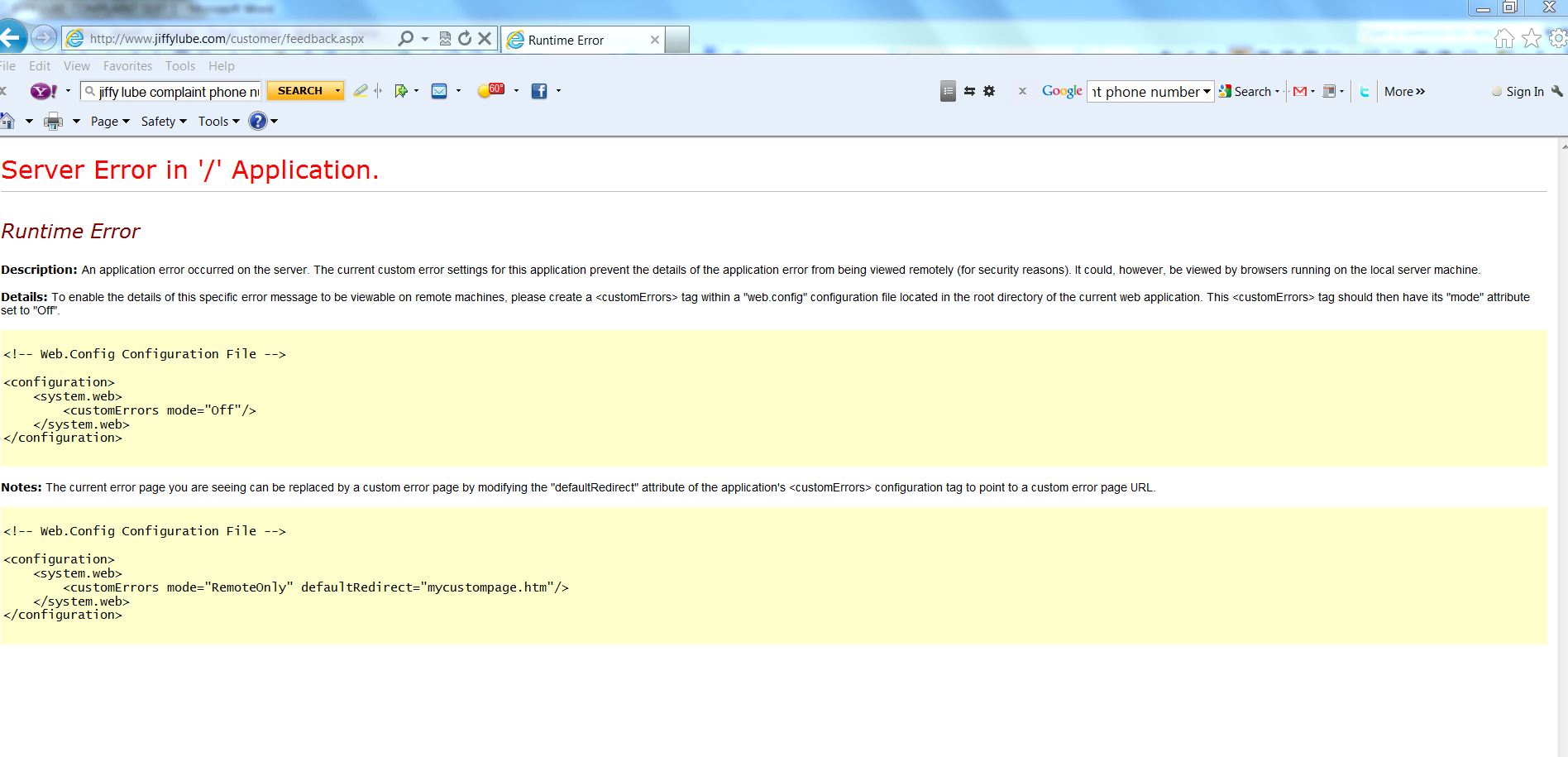 I came in for an oil change. I am well aware and willing to pay for the high mileage oil, and did. I also listened when the service rep showed me my transmission fluid dip stick and advised a service be done on that too... He also showed me my coolant and washer levels were fine, but that he would top them off at no charge. HERE IS WHERE IT GETS CRAPPY.
ONLY 45MILES AFTER LEAVING THE STORE, THE LOW COOLANT LIGHT CAME ON... I DIDN'T HAVE TIME TO LET IT COOL DOWN, AND TAKE IT BACK TO STORE THAT DAY... BUT WHEN I DID THE MANAGER ON DUTY (NOT THE GUY WHO HELPED ME BTW) TOLD ME THAT I HAD A BLOWN HEAD GASKET (WHICH PROVED TO BE A LIE, AND BUICK DEALERSHIP AS WELL AS FIRESTONE SERVICE CENTER BOTH DISAGREED)
HE TOLD ME MY OIL WAS LOW LAST TIME, SO THAT IS WHY THEY COULDN'T TELL THAT I HAD AN ALLEGED HEAD GASKET LEAK. I have every invoice for the last 8 years indicating that in fact my oil has never been low, and is indicated as "full" by jiffy lube invoice... The invoice also states that all fluids were topped off...
but Rod tried to tell me that my coolant was mostly water and then tried to SELL ME ON A RADIATOR SERVICING... THE BALLS ON THAT GUY ... HE LIED AND THEN LIED SOME MORE... upon direct yes or no questioning he answered the same question differently twice... While I was asking him these questions I had called my work voicemail and forgotten, so the entire conversation is recorded...lucky me that I did too... IF ALL FLUIDS ARE TOPPED OFF AND FLUSHED IN THE LAST 10 DAYS...THEN WHY IS ONE OF SAID FLUIDS 'MOSTLY WATER' .... and the 'high mileage oil' I paid for (and have paid for since 2008) ....well it turns out it wasn't high mileage oil at all.... it was the basic 19.95 oil that is offered on coupons.... i know this because of 2 inspections by both the dealership and firestone service center...
LIES .... DAMAGE TO MY CAR CAUSED BY NEGLIGENCE OF STORE 2218... OVERCHARGING... AND THEN MORE LIES.... AND ON TOP OF ALL THAT THE MANAGER ATTEMPTED TO BLAME ME, SAY IT WASN'T THEIR FAULT, AND TOLD ME TO PAY HUNDREDS OF MORE DOLLARS FOR SERVICE FROM A PLACE SO INCOMPETENT THAT THEY COULDN'T EVEN BE BOTHERED TO INJECT THE PROPER AND PAID FOR OIL, AND TOP OFF THE FLUIDS AS PER THE INVOICE/THEIR VERBAL STATEMENTS/ AND THE WRITTEN LANGUAGE HANGING IN THE WAITING AREA.
I EXPECT TO BE CONTACTED BY A LIVE PERSON WITH AUTHORITIY TO RECTIFY THIS SITUATION ASAP.
I AM NOT AGAINST UTILIZING THE BBB TO COMPLAIN. CALL FOR ACTION NEWS CREWS.. AN ALL OUT DEDICATION TO INFORMING THE PUBLIC VIA THE WEB, IN A MANNER THAT WOULD CERTAINLY BE NOTICED BY ANYONE UTILIZING GOOGLE OR BING TO SEARCH FOR INFO FOR JIFFY LUBE...
I AM NOT ANGRY... NOT LIKE I WILL BE IF I DONT GET A CALL BACK WITH A FORMAL OFFER TO RECTIFY THE SITUATION ASAP..
OIL CHANGE SHOULD NOT = NO COOLANT....WHEN I CAME IN I HAD FULL COOLANT....WHEN I LEFT I HAD WRONG OIL, NO COOLANT, AND A BAG FULL OF LIES....