The higher the identification number, the more recent the unedited and unverified experience.


TIP: Tell us about your experience. We may add it to the following list of experiences of others.

HELP US form a critical mass which will encourage Jiffy Lube to make changes. Tell others about this website.

[300] Jen in Olathe, KS Unwanted Services

I went in for a $19.99 oil change and my bill was $227.89. The men in the store kept teasing me that I just drive and get gas and wouldn't know anything else. One guy came in and showed me two things and said that I HAD TO replace: my transmission fluid because it was testing unsafe and my air filter. He also said that I needed more radiator fluid. He never said that it was going to cost more. I would never have agreed to let him do those things if I would have known they were extra, let alone $200 extra.

[299] Victim in Dubuque, IA Called Police

I wanted to let you know about an incident that happened at a Jiffy Lube that I went to. I pulled up around back as the signs stated I should do. A young gentlemen came up and asked to see the milage of my car. No issues there. He then asked me to wait inside. I was a bit taken back since he never asked me what I was there for. Still no issue. I went inside and waited to talk to a person concering what service I wanted done. I was looking at the pricing on the price boards and I thought that the prices were very high. High enough that I figured I would go and either do it myself or have someone else take care of my car. I still really have no issues. What happens next is my major problem. When they came and talked to me about my car I said that the price was too high and that I changed my mind I would go somewhere else. (I still had not told them what I wanted done with my car). I was told at that point by the owner, that they had already dropped my oil and it was too late. I was shocked considering they still had not asked what I wanted done with my car. I told him I was not going to pay for an oil change when I never once asked them to do ANY work on my car. This guy was immedialty defensive and very aggitated. he mentioned a discount (no exact amount and he was very abbrasive about it) I said no. I do not want a discount, I wanted my car the way it was. (I had thought at the time that they only pulled the oil) Putting the fresh oil without a filer would have solved the problem with a minmul loss of any profit considering the cost of oil. He said that he would put the old oil in. I told him no way since I have no way of knowing if the oil had contamiants in the container. This guy was very angry and at this point, so was I. I used the word FRICK repeatadly since I did not want to swear. He starts yelling at me to not use the work frick or any other swear word. At this point I DID start to use the real swear word. How dare he ASSUME I wanted my oil changed, never give me the opportunity to ask about pricing, yell at me, and then have the gall to tell me what I can or cannot do. He then called the police. He blatenly LIED and told them I was threatening. (this was on the call to 911) I totaly admit to swearing at him and in in hindsight, I should have done more to diffuse the situation. He was an Irrate owner and as a customer its MY job to settle him down. (note the obviouse sarcasam) When the police got there, he was to the point of almost shaking and to be hoenst, I was afraid he may sabotage my car or try something else. I admit to laughing (which did not help the situation but I was laughing at how ludicrous the situation was) After talking to the officers, I was told that this is not the first time this guy has freaked out on people. They evern aggreed that this guy was off the wall. The owner told the officers that I would not get my car out of thier shop unless I signed a form and gave him my home addresss. This guy was so irratic I was not ever going to give him access to that information. The officers said I could give him a false address if I was concerned. Which I did. I cannot describe how phycho this guy was. And this was the OWNER! He said his name was Dave.

What should have happened is that no work should EVER have been done to my car without FIRST talking to me and asking what I WANTED done. Had he done that, this whole situation would never have happened. Now that they performed UNAUTHORIZED service, I am banned from Jiffy Lube. I would normally have dropped the issue after such an unpleasent experience, however, the lengths that this man went to make me look like the bad guy, and make my life sooo difficult, I decided that this feedback is the least I can do. I am not looking for any coupons or free oilchanges. (especiialy since its the only Jiffy lube in Dubuque and I am never returning there under his ownership. I would HIGHLY advise looking into his history of complaints (if there are any. This is NOT the person I would EVER want to represent my company. There are many details left out to try and keep this as short as possible. (some of the details are not flattering to myself or "Dave" but I am more than happy to share them with someone if they would like) I admit responsibilty that I could have handled the situation better, however, given the circumstances, I was not out of line refusing to pay for unauthorized service.

[298] Ann in Crestwood, IL Scratched Vehicle

I brought my boyfriend's Santa Fe in for a full-service oil change at the Jiffy Lube in Crestwood, IL. Everyone was very friendly and helpful, and I thought all went well until my boyfriend came home. He noticed numerous scratches on the front driver's side (close to the windshield) that I had not noticed. He knows the scratches were not there previously and wondered what they had put on his vehicle. After close inspection, we determined that it must have been done by a belt buckle while the windshield was being cleaned. I took the vehicle back to the shop and spoke with David (who worked on the vehicle that morning) and Brian, the manager. Of course, they both tried to find other explanations, but we know that those scratches were new. Brian even acknowledged it looked like it could have been as we suggested but said that since there were no marks on the other side, it couldn't have been a belt buckle (however, the angle at which one cleans the windshield would be different on the other side--the little movable piece of the buckle would not necessarily be in the same position). Anyway, Brian told me I should contact the main office and directed me to the 800 number on the back of the invoice. I contacted Jiffy Lube by email (through their website) and called the 800 number and had to leave a message. I'm still waiting to hear from them.

[297] Dave in Everett, WA Wrong Make Vehicle

What's with These so called 'certified' employees???

True, my Van has mileage--- first visit, oil/lube was performed, then was talked into Your transmission Service.. Paid the bill, but noticed that the people working there couldn't tell the Make of my van as a GMC. I drove in, a GMC and they are trying to claim that my Van is a Chevy Astro.. Also notice that the oil on the Dip stick was 1/2 in. above the full line. Plus, noticed that on start up, there was a puff of blue smoke.. Before this oil change, my Van didn't do this..

This time, I had it Serviced--- they are telling me that my transmission pan is leaking.. Why is this since it was just Serviced? Shouldn't someone have tighten the bolts?

Plus, this time I was charged extra for 'high mileage' oil.. Why not the first visit?? Again these 'Technicians could not tell that I had, a GMC and Not a Chevy. ONLY this time they claimed that I also had 'two wheel' drive. NOT the All Wheel drive that is ID all over the side of my GMC van .. True, they may look alike, But really now... To a Technician who should be in the Know--- should still be able to read, and see that GMC Safari and Chevy Astro are Not spelled the same..

Maybe, You guys should increase these Techs. pay scale--- that way, they might pay more attention to their job.. And, the kid did a lousy job with the vacuum.. --just good enough to suck up my loose change, then disappeared...

[296] LW in Middletown, OH Daughter Rip Off

My daughter took our old Alero into Jiffy Lube because the light was on. It is frequently on because as an older car, there are many things wrong with it. It did not need an oil change, but she did not want to break down and miss her exams. She used the Middletown Ohio store #2381 and was billed $51.11! She was shocked , as were we. The highest we pay at a superior garage is $35. The workers at the store claim that they told her about the expenses and that there was additional charges of $13 for an "older car". They told her about this as they were working on the car. It was not an "agreed price" prior to the lube job. When we called the Texas offices, the call was "transferred to a phone system" that ended in an empty signal. I called the store, and was given the regional manager ( with difficulty), called... only to receive another recorded message. I will send a follow-up letter, but am discouraged by all the complaints at this web site.

[295] Kathy in Gladstone, MO Transmission Bolts

On Saturday, July 15, 2006, I was doing some errands when my car started to have a problem in the RPMs revving up to high before the car shifted. As I was about 25 miles from my home, I did not feel comfortable driving my car home without having it looked at by someone. When I first bought the car used, it did something like this and when we took it for service they cleaned the transmission pan, filter and changed the fluid. It ran fine for a little over 4 years. Having had this experience before, I saw that Jiffy Lube was my closet option for help. I pulled in and asked to have a transmission service done, they told me they would do a pan drop service that would run me $79.99 plus tax. I waited for over an hour for them to work on my car. When they were done, I started to head home. My first 8 miles went great, the car shifted like it should and ran smooth. Then when I took my first right hand turn after the first few miles, my engine revved up really high then slammed into gear and finally shifted. When I made a left turn, I noticed it did not do that, it just made a smooth turn. My car was worse than it was when I took it in to Jiffy Lube. I opted to stay off the highway hoping to not cause any more damage to my car. On Monday, July 17, 2006, I called a transmission service that we had used in the past on other cars. I asked them if they could take a look at my car and told them about the transmission problem I was having. Since the service center was over 25 miles from my house, I had to have it towed to the service center. Upon their inspection they found that 2 of my bolts that held the transmission pan on had been stripped and I had leaked out all my fluid. I immediately called Jiffy Lube and talked to a manger named Mike. I told him what the transmission place told me and that not only was I now out the $85.87 I paid them to service my transmission, but I was now going to be out the cost of a tow and another transmission service to clean and replace the filter. I can not believe that they not only damaged my car, but they never said anything to me about it. Mike told me that since they caused the damaged they would pay for the new expenses I am incurring because of their mistake. I will believe it when I see it. I know I will never use Jiffy Lube again for any type of service, and I will warn all my friends, family and anyone that hears me not use them either. I plan on contacting the State Attorney's office, the BBB, the TV stations, and newspaper to let them know about this. How these people stay in business is beyond me. The Jiffy Lube Center I used is located at 7025 North Oak Trafficway in Gladstone, MO. If they fail to handle this like they say they will, then I will also resort to filing a lawsuit against the techs that did the work and signed that they did it, the store manager, and corporate Jiffy lube/Shell.

[294] David in Raleigh, NC Wrong Mileage

Just wanted to inform you that my wife took her 2001 Toyota Solara to a Jiffy Lube on Atlantic Avenue in Raleigh, NC on July 15, 2006 for an inspection.

They inspected the car, but the moron mechanic mistakenly wrote the trip-odometer mileage (instead of the actual mileage, which is 60,019) as 98,642 miles, when the trip-odometer actually read 9,864.2 miles.

At first glance this would seem like no problem, however, if we decide to sell the car in the next year or so, the DMV will most likely hold up registration since it looks like we've rolled the odometer back on the car.

A call to Jiffy Lube was met with "Sorry, there's nothing we can do about it. You'll have to call the DMV". Another case of the Jiffy Lube moron's unable to, first, read the correct mileage for the car, and, secondly, in their typical incompetent fashion, deflect the corrective action to the customer.

Jiffy Lube – you SUCK !!!

[293] James in Balcones Heights, TX Failed Service

I recently had an opportunity to use the Jiffy Lube located at 4119 Fredericksburg Road in Balcones Heights, TX (suburb of San Antonio). When complete I was asked to evaluate their service. I asked one question, did you grease the vehicle. He said he did not (I appreciate his honesty). The service attendant immediately brought the truck back around and grease it. Now I asked how I can trust that the other services were performed? It was apparent that the pickup was vacuumed but I could not tell about the other items. It is a leap of faith. This is the second time I have noticed that not all services were performed (not at the same location). I have to give them a failing grade.

[292] Hanson in Glenview, IL No Grease

You'll laugh.......You'll cry......

Why I went back is beyond me. A few years back I found out that my ball joints on a E250 Van were shot because they were not lubed. This despite having Jiffy Lube service every 10,000 miles.

I thought I would give the same Glenview, Il Jiffy lube another try. After waiting an hour with only one car ahead of me they proceeded to do their thing. They recommended transmission filters and fluid on a 20,000 mile transmission. Also suggested radiator flush which I declined as well. All I wanted was oil and lube, the rest I have done at a qualified establishment.

When I get the van home I checked and the four grease fittings on front end were not greased. They had on invoice that there are no fittingss which is incorrect. Here's where it gets so absurd it is beyond belief. When I called to ask about the grease they claimed they ran out of grease!!!

Even as unbelievable as this would be then why didn't they tell me they ran out of grease and come back another day? Instead they just send me on my way and had I not crawled under the van I would never have known. In the legal world that is considered fraud.

Today I went back to get the grease portion of the job done and waited another hour while the boys played around in the shop. They even checked the rear end fluid this trip and said it was low. Another
ommision from the first trip. The comedy continues however when the guy that did the original first half of the job apologized and blamed it on being very busy that day. Too busy to grease four simple fittings and check the rear end but not too busy to do a radiator flush and complete trans service had I given the OK.

[291] Joshua in Franklin, MA Check Engine Light

I had an oil change at the end of March 2006 at a Jiffy Lube in Franklin, MA. A few days later, my car's "check engine" light came on. Because I know very little about cars, I took it to my mechanic (not Jiffy Lube). He analyzed the problem and told me that when I had my oil change, Jiffy Lube had not re-connected the tubes in my engine. My mechanic had to do a full diagnostic analysis to find this out and he charged me $110 for it. I decided to ask Jiffy Lube for the money back, since it was their mistake in the first place. I called the store manager and explained my situation. On the phone, he agreed that if it was their fault, then I was deserving of a refund. He told me to stop by with the receipt from my mechanic and he would reimburse me.

I stopped by one day and he was not around, so I was unable to give him my receipt. I showed up the next day and actually spoke to him. His first response was that I should have brought my car back to Jiffy Lube right away. When I told him that I didn't know the cause of the light and that's why I brought it to my mechanic, he agreed. He then told me that he couldn't reimburse me directly…he had to submit the receipt to his regional manager and that I would have my check in a few weeks. Since I only had 1 copy of my receipt, I asked if he had a copy machine so that I could make a copy…of course, he didn't. He then asked if he could take my only copy. I didn't let him as I wanted to have a copy for myself, knowing that if I gave up my only copy, I was finished. I told him that I would return, for a third time, with copies. He then mentioned that my car has had lots of problems with oil changes…now he was blaming me and my purchase for this!

I returned a week later with the copies and predictably, he wasn't there again. I gave a copy of my receipt to the assistant manager but haven't heard anything since. It has been more than 2 months and no one from Jiffy Lube has called me. I have yet to see a check.

Their customer service is horrible and their manager training must be non-existent. I will go out of my way to never go there again.

I see I'm not the only one who has issues with Jiffy Lube. Today I took my car for a routine oil change and received not only the oil change, but a car interior that smells like a mens' cologne factory exploded in my back seat. As there was a great deal of laughing and fooling by my car, I get the impression that someone did indeed spray cologne in the car's interior. I heard one employee say, " Wow! You're mean! " I don't need, or deserve, this garbage. It's been all day and my car still smells like you wouldn't believe. This whole incident was bizarre to an extreme. The real problem is the impossibility of taking a child with asthma anywhere while the car is in this condition. This is a child who's already been in the hospital due to his breathing problems. Apparently, Jiffy Lube enjoys getting sued.

[289] David in Durham, NC Failed Inspection

Today I went in for a State Inspection of my car at the Jiffy Lube on the corner of NC 54 and Hope Valley Road (NC 751).

The technician who worked on my vehicle informed me that my vehicle would not pass inspection because "half" my third brake light was non-functional.

He showed me the light, and it illuminated when the brake was depressed. I couldn't see a difference between "half" a brake light being out and the whole thing being functional. I paid the fee for the new light, $7.99, because he said he wouldn't let it pass inspection without the replacement.

Upon coming home, I went online to find the specifications for North Carolina State Inspections, and there is nothing in it concerning "half" a brake light not illuminating.

I quote the relevant passage:

Stoplights shall conform to the requirements of G.S. 20-129(g).

Stoplight shall not be approved if:
(a) The lens is cracked, discolored or of a color other than red or amber.
(b) It does not come on when pressure is applied to foot brake.
(c) It is not securely mounted so as to project a light to the rear.
[Includes third brake light if vehicle is so equipped] [emphasis original document]

$7.99 is not a lot of money, but I will never go to Jiffy Lube again for any reason.

[288] Kirian in Bedford, MA Obnoxious Employees

There's a Jiffy Lube conveniently located about 2 minutes from my home, but I dread having to get my oil changed there. Every time I have been, the employees are obnoxiously yelling to each other. I'm not talking about reasonable raised voices to communicate over the noise of the work being done, this is constant banter, swearing and gossip back and forth on the workroom floor. It's unnecessary, annoying and unfortunate that they act like teenagers who have been let out of the house for the first time. I've never heard this much or this volume at any other garage or Jiffy Lube. Needless to say, I won't be going back any time soon.

[287] Juan in Los Alamitos, CA Angry Manager

As a VIP Member, I did not have my card with me. I was at JIFFY LUBE #1858, A Mr. Brian Watts was the manager. He stated to me that he was having too many customers that did have the card that wanted the discount, but that he would make an exception this one time and not to show at his place again without it. He was very loud and upset. I had my car serviced with oil and filter changed and tire rotation. When I received my bill, the $8.00 discount was not posted and I informed the clerk about the exception that Mr. Watts had made. She did not accept my word and asked him if I wanted her to check with the manager. I said yes. Mr. Watts came in the office slamming doors, desk drawers and asking how I paid the bill. The clerk responded by saying Credit Card, and Mr. Watts replied "of course, now I can no do anything about it". I replied to Mr. Watts, that for $8.00 he could keep the money. Mr. Watts went into a drawer and pulled out the $8.00 and left, slamming the door even harder. Mr. Watts needs anger manager, and consideration of others training. He is a very angry man and should not be a manager at any of your stores.

[286] John in Encino, CA No Regular Oil

MY WIFE TOOK HER VW BUG IN FOR AN OIL CHANGE, THE REPRESENTATIVE TOLD HER THEY WERE OUT OF STOCK ON REGULAR OIL AND COULD ONLY USE THE MORE EXPENSIVE SYNTHETIC OIL. SINCE THEY HAD ALREADY DRAINED THE OIL SHE HADN'T ANY CHOICE EXCEPT TO PAY FOR THE MORE EXPENSIVE OIL

[285] Derek in Kitcherner, ON Brake Problems

take a look at this...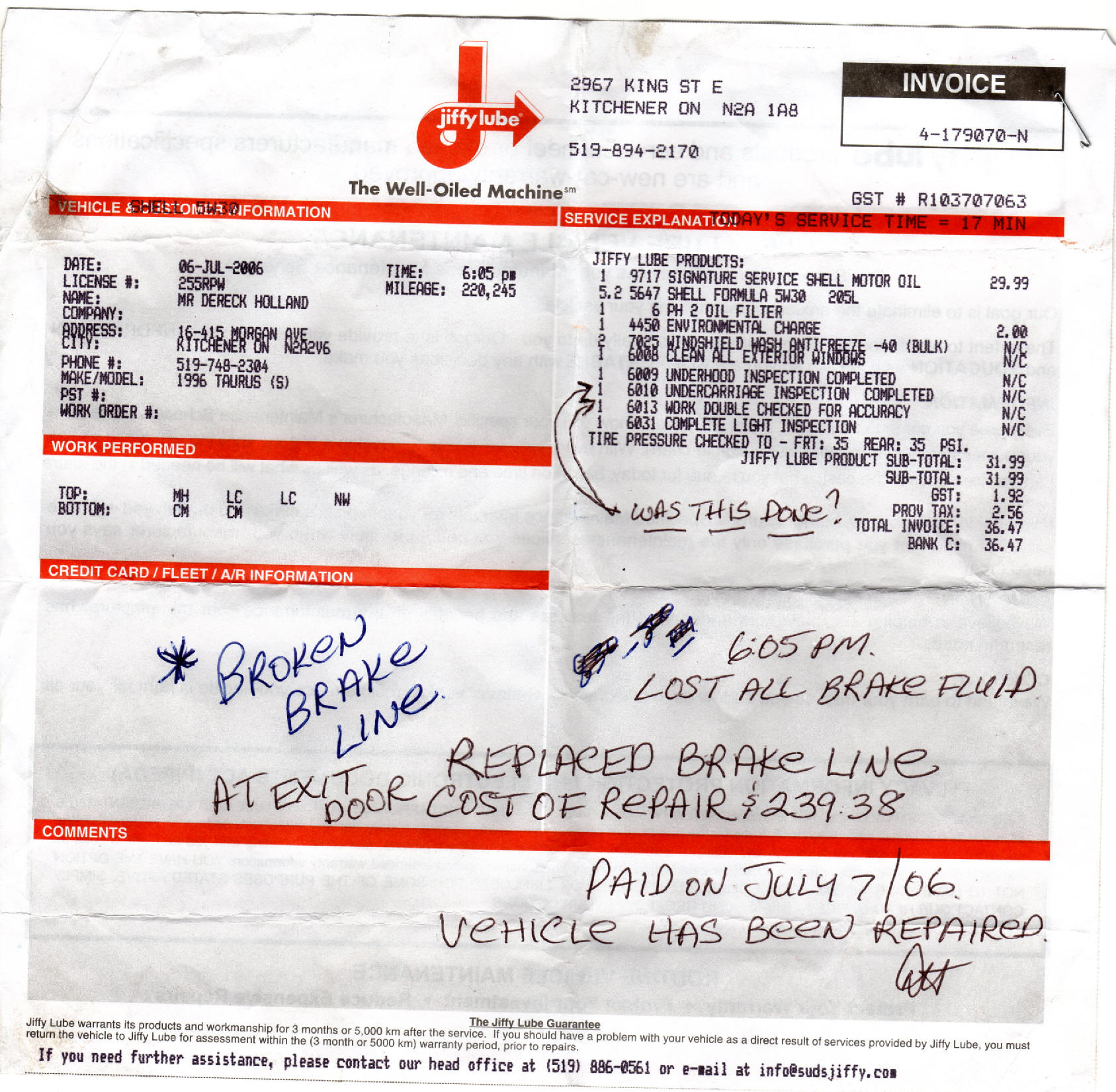 [284] Rob in Sacramento, CA Wrong Oil
The disconnected associate processed my request for synthetic lubes for the transmission and differential. I presented my receipt and stood in close enough proximity to witness the operator not provide the correct products. I confronted him which necessitated draining and refilling. My receipt was clearly marked. His only remark was, "Sorry dude."
O i work at a texico express lube changeing oil and i work in the pit. I have to check all the fluids there are some customers that got there oil changed at jiffy lube, then come to us there fluids sometimes theu havn't been checked. One time i couldnt even open the oil drain plug they tightoned it to tight sow we couldnt change there oil sow we sent them else where they have been cars thet the drain plugs or the filter are bairly tight and can undo without any efort . There have been workers that came from jiffy lube and they dont work,THY ARE JUST LAZY! My boss was telling me about a kid from jiffy lube that came to work for us. all he would do is just bang the wrench around and say he was checking the fluids he didnt work there much longer. now they are a swear word at my work they can make my job such a living hell.
[282] Mindy in Pompano Beach, FL Sales Ritual
I made my usual trek to Jiffy Lube a few months ago to have my oil changed in my Ford Ranger. As I pulled up, there were 3 or 4 young guys all around my truck, and one came over to me right away, because he already had me in his system, and was holding a clip board.
Right off the bat, he starts babbling about all the things I "need". I bluntly interrupted him, and told him to "stop right there. I don't want, nor do I NEED anything other than a quick oil change. Don't bother to tell me your specials, don't bother to try to sell me something, I don't want to hear it, JUST GIVE ME WHAT I CAME HERE FOR: AN OIL CHANGE." His eyeballs bugged out, but he got the message. I waited inside, but watched all four of them as they worked on my vehicle. I wasn't about to have one of them screw with my truck out of spite.
During the oil change, one of the guys held up my filter, and said it looked like I needed a new one. I had him bring it over to me. I told him, "This does'n't look bad at ALL, I think it's fine." He proceded to try to sell me a new one. I looked up at him in disgust, asked him if he was deaf, and then told him to FIND me a NEW one, so I could COMPARE the two, then I'd see just how dirty mine really IS. After 5 minutes of supposedly "searching" for a new filter, he said they were all out of them. I said, "yeah, right."
After that, they brought over the charges, and I signed my sheet and left. I've gone there several times over the past few years, and I say the same thing every time I go there BEFORE they start their "SALE RITUAL". I shut them up before they even start.
Some people probably tip these guys because they're in the "service" industry, but I never have. I only go there because its quick and easy, and inexpensive. After all, isn't that what they ADVERTISE??? "Come to JIFFY LUBE for your 10-minute oil change! Only $30.00!"
I gave up going to these places with a boyfriend or husband in-tow. I've learned over the years to be a kick-assing bitch when I need to be. NOBODY is going to TELL me I HAVE to BUY ANYTHING unless I damn well WANT TO!
Good luck ladies!
I know I'm the only person with this issue, after googling it and reading here. . . What's with the shop fee??
I watched some sort of hidden camera expose last night (CNBC - http://www.bigideadonny.com/about.html ) on how Jiffy Lube tries to sell services they often can't even provide. My husband once said he can barely leave the place without spending $40 on a $20 oil change, because yes, they'll tell you all about your vehicle's scheduled maintanence and the various premium oils you can buy. But I just wanted the cheapest and I wanted it done fast. AND I wanted the "Early Bird" special. I know the routine.

But here's what no one mentioned: the "shop charge." I saw this tacked onto my bill and asked what it was. The guy said it was $1.99. I told him, "I know that, but what is it??" He told me it is a way for big companies to make money. Ha, but not funny. He actually said he thought it was on the sign. It is, but the print is so high up and so tiny you can barely see it standing directly under the sign. It is tiny white lettering surrounded in black. Again. Not funny! I'm not going back.
[280] Stephanie Loose Lug Nuts
On July 3, 2006 our Dodge Magnum was serviced at the Vacaville Jiffy Lube on Merchant Street and after driving ten miles home we discovered that only one lug nut on the back tire had been tightened! The others were loose to touch. In that my whole family was in tow (three small children) I have had to thank God repeatedly that my whole family was not killed. Thereafter a manager from the Fairfield Jiffy Lube came to tighten the nuts and assured us the car was safe. In that my family is racially diverse I question whether the oversight was truly an accident. Very sad, but give God the praise – If God is for us, who can be against?
[279] Simon in San Marcos, CA Work Not Done
Last month, I went in for an Oil Change. I was told I needed a fuel filter replacement. In the end I had both an oil change as well as a fuel filter replacement. After some car problems I went to a different mechanic, where it was discovered that no fuel filter replacement had been done. This was at the Jiffy Lube on San Marcos Blvd, San Marcos CA.
[278] Tosca in Hopkins, MN Missing Screws
Yesterday I had my van in for an oil change at the Hopkins Mn Jiffy Lube. Today, my husband and daughters left to drive from MN to OH to visit family - hence why I had the vehicle serviced! My huband calls from Madison WI to say the mechanic had not replaced the screws to the plate that covers the engine underneath the vehicle - so it had been scraping on the road, and he had to stop at a rest stop and duct tape it until he gets to OH! I went to the Jiffy Lube store to speak with the manager - she said they had not found any screws, so they couldn't prove it was them. She said maybe they were missing when I brought it in - I said that wouldn't it have been scraping then, and wouldn't they have noticed the missing parts and let me know? She said they were so busy yesterday, they wouldn't have noticed anything "extra" - they were just getting the cars in and out. I asked what she would do about it, she said nothing but apologize unless I brought the car back in. I said that was impossible, since the car will be in Ohio and will need to get serviced there. I would not bring the car back to them anyway, but at least would have liked some sort of refund since we will have to pay for the repair. I tried calling the 1-800 # on my receipt but it disconnected me three times! The apology meant nothing to me, we are very inconvenienced and I really feel like a victim.
[277] Ralph in Shrewsbury, MA Oil Cap
I had and oil change (maybe 2 years ago) at the Shrewsbury, MA site on Rte 9. I have a fairly new car so I have no occasion to open the hood so I am not sure how I discovered the fact that they never put the oil filler cap back on to engine. My engine was wet with oil ejected out from the open filler hole. I went back to Jiffy Lube and of course they denied wrongdoing and asked me if I had been doing anything to the engine. After assuring them I had done nothing they said they would get another one. I returned and they had not gotten the new one and furthermore it was a different person so I had to go through the whole story again. I got one myself since they are not expensive. Anyone can make a mistake so I have still been to them with no further incident. Maybe I will reconsider but the convenience is so attractive.
Why are so many of your franchisees cheating their customers by not providing the promised service, but charging anyway?
Link to similar comments on other websites
Attention Journalists & Attorneys:
The identification of the sender and their e-mail address have been removed from their unedited and unverified comments. If you wish to contact any of them, then send us an e-mail. We will forward it to the appropriate party. Then they will have the option to respond directly with you.